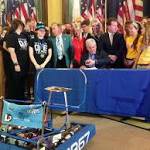 Michigan: Governor Snyder was joined at the bill signing by winning students from the state's FIRST Robotics competition in April. Michigan invested $3 million in the program this year and the 2015 education budget includes another $2 million in district grants. The budget represents an investment in the state's schools, Snyder said, highlighting additional funding for schools. The $15.8 billion spending package adds a minimum $50 boost to every K-12 district's foundation allowance, and includes extra money for lower-funded schools, although critics have complained the extra funds will disproportionately go to charter and cyber schools, which have lower overhead costs and receive less money.
Minority Democrats say some schools aren't getting enough of a funding increase given rising payments districts must make for retiree pension and health care coverage. Snyder says that lower-funded school districts will receive more state aid to reduce a gap between them and higher-funded districts.
Snyder plans to sign the $37.5 billion general budget bill within a week once it reaches his desk.